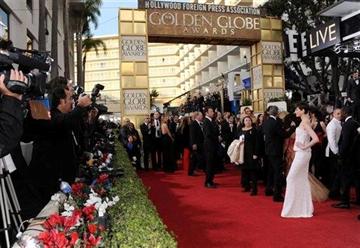 (Photo by Jordan Strauss/Invision/AP, File). FILE - In this Jan. 13, 2013 file photo, actress Anne Hathaway arrives at the 70th Annual Golden Globe Awards at the Beverly Hilton Hotel, in Beverly Hills, Calif.
LOS ANGELES (AP) - The organization that puts on the Golden Globe Awards and the company that produces the telecast have resolved their long-standing court battle over rights to the show.
The Hollywood Foreign Press Association and dick clark productions announced Monday that the 2010 lawsuit has been settled. The terms were not revealed.
The dispute arose after dick clark productions negotiated a deal to keep the Globes show on NBC through 2018. The production company claimed it has the right to work on the show as long as it airs on NBC, but the association argued that it never agreed to those terms.
The president of the Hollywood Foreign Press Association says the two organizations will continue to work together. The 72nd annual Golden Globe Awards are set to be presented Jan. 11 and broadcast live on NBC.
Copyright 2014 The Associated Press. All rights reserved. This material may not be published, broadcast, rewritten or redistributed.