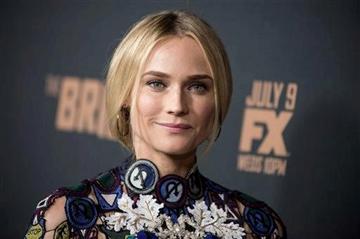 (Photo by Richard Shotwell/Invision/AP, File). FILE - This July 7, 2014 photo shows German actress Diane Kruger at the LA Premiere Screening of "The Bridge" in West Hollywood, Calif.
By LAURI NEFF
Associated Press
NEW YORK (AP) - German-born actress Diane Kruger says watching Sunday's World Cup final she couldn't eat, drink or sit down the entire match.
Kruger says the game was so intense. And when Germany finally beat Argentina 1-0 in overtime, she was "jumping up and down." She watched the match with friends in New York.
Kruger says that as a European, "even if you don't like soccer you like soccer."
The actress spoke Monday, promoting the new season of the "The Bridge," which airs Wednesdays on the FX Network at 10 p.m. Eastern.
She says production of "The Bridge" was actually halted during the final 10 minutes of last week's Germany-Brazil game because she didn't believe crew members who told her Germany was dominating the game. It went on to win 7-1.
Copyright 2014 The Associated Press. All rights reserved. This material may not be published, broadcast, rewritten or redistributed.