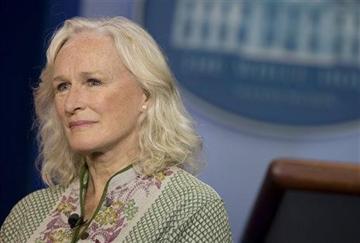 (AP Photo/Evan Vucci). In this June 3, 2013 photo, actress Glenn Close does a television interview in the White House briefing room in Washington, Monday, June 3, 2013, ahead of the White House mental health conference with President Barack Obama.
WATERVILLE, Maine (AP) - Six-time Oscar nominated actress Glenn Close has been honored by the Maine International Film Festival.
Close called the Mid-Life Achievement Award - a moose statuette- she received Sunday night in Waterville "the best award I've ever received."
The ceremony followed a showing of "Albert Nobbs," a 2011 film Close starred in and co-produced about a woman in 19th-century Ireland who dresses as a man in order to be able to work.
The Morning Sentinel (http://bit.ly/1tHx5SG ) reports that the 67-year-old Close, who has a home in Scarborough, Maine, also spent about an hour with film enthusiasts answering questions about her career.
The 17th annual film festival runs until July 20.
Previous winners of the award include Malcolm McDowell, John Turturro and Sissy Spacek.
___
Information from: Morning Sentinel, http://www.onlinesentinel.com/
Copyright 2014 The Associated Press. All rights reserved. This material may not be published, broadcast, rewritten or redistributed.