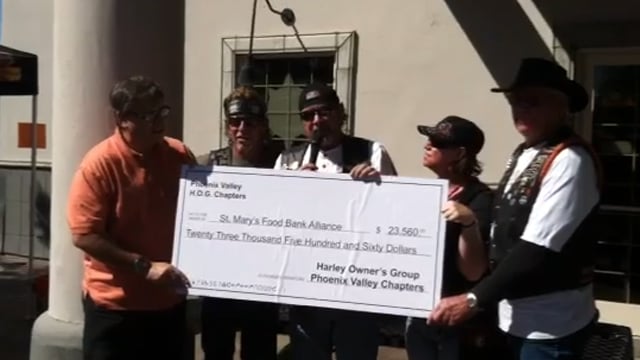 (Source: Jerry Brown, Firstfoodbank.org)
SCOTTSDALE, AZ (CBS5) -
A biker's challenge has collected enough donated food and funds to serve up 186,000 meals for St. Mary's Food Bank Alliance and other Valley Food Banks.
The fifth annual Biker's Food Bank Challenge was organized by the Valley chapters of the Arizona Harley-Davidson Owners Groups (HOG).
The Valley chapters have now provided enough food and funds to provide more than 500,000 meals to the hungry of Arizona in the first five years of the challenge.
They have also increased the totals every year. This year, HOG Chapter 3160 becomes the fourth different chapter to win the challenge, collecting more than 77,000 meals to claim the title.
In mark of their feat, Chapter 3160 took the lead position in the annual Valley-wide ride to cap the drive on Sunday.
After visiting each of the dealerships and picking up more HOG chapters at each stop, the ride ended at Scottsdale Harley-Davidson at 15600 N. Hayden Rd. in Scottsdale. More than 100 riders wheeled in for a lunch and the trophy presentations.
"On behalf of Arizona's hungry, we salute all the participating HOG chapters on their most successful drive ever," said Food Bank President and CEO Beverly Damore.
Copyright 2013 CBS 5 (KPHO Broadcasting Corporation). All rights reserved.