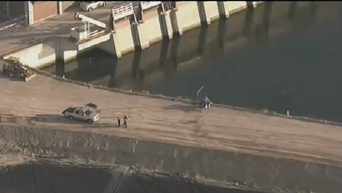 The body was found in a Central Arizona Project canal near Bush Highway and Granite Reef Dam Road. (Source: CBS 5 News)
MESA, AZ (CBS5) -
Authorities are working to identify the badly decomposed body of woman found floating in a canal north of Mesa on Monday afternoon.
Maricopa County Sheriff's officials said the body was found about 3:40 p.m. in the Central Arizona Project canal near Bush Highway and Granite Reef Dam Road.
The Mesa Fire Department turned the case over to the sheriff's office because it was outside the city's jurisdiction.
Investigators said it appears the woman is between 15 to 40 years old. The cause and manner of death have not been determined.
Sheriff's deputies said they are working with neighboring police agencies to locate any reports of runaways or missing people that match the description of the victim.
Copyright 2013 Associated Press. All rights reserved.