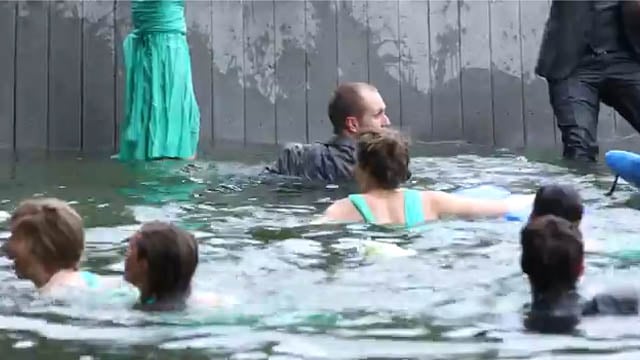 Source: YouTube
ATLANTA (CBS ATLANTA) -
An entire 29-person wedding party took a plunge into Lake Lanier and the video is going viral.
It happened on May 18, after the ceremony during a photo shoot on one of the boat docks.

Some are claiming the video, posted on YouTube, appears to be fake.
However, the video's poster, TheRemedyFilms, assures that it is the real deal.
"Nothing about this was staged; the dozen iPhones that no longer work, the Canon 5d and lenses that went into the lake, major bruising on family and friends, a great-grand parent's heirloom gone, ER visits, etc. We just happened to catch a jerky couple seconds of this before the chaos of hoping no one was stuck under the dock, so we decided to share it with others."
One person was reported to have a broken arm.
Despite the spill, TheRemedyFilms said "everyone got dried off and the reception went on to be one of the best celebrations to date."
Copyright 2013 WGCL-TV (Meredith Corporation). All rights reserved.