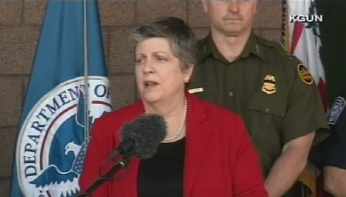 Homeland Security Secretary Janet Napolitano at news conference Friday in Tucson. (Source: KGUN)
TUCSON, AZ (CBS5) -
Homeland Security Secretary Janet Napolitano is back in Arizona checking out security operations along the border.
Napolitano said a lot of progress has been made.
She said illegal immigration attempts are down 80 percent since their peak in 2000 and are down 50 percent since 2008.
Napolitano said because of that, drugs, money and weapon seizures are all up.
Napolitano said you can't talk about securing the border without taking about immigration reform.
"We have thrived as a country of immigrants. Our immigration system needs to be rebooted so that it matches the needs of the 21st century," Napolitano said.
Napolitano said over the past four years, the current administration has dedicated historic levels of personnel, technology and resources to the southwest border.
Copyright 2013 CBS 5 (KPHO Broadcasting Corporation). All rights reserved.