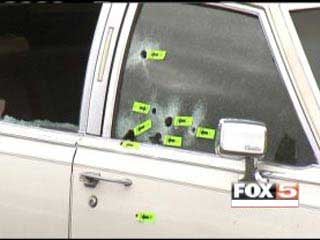 Bullet holes were left in Stanley Gibson's car following his death.
LAS VEGAS (FOX5) -
The shooting death of a disabled Gulf War veteran by Las Vegas Metro police is the first case under review Thursday at the inaugural meeting of Clark County's Police Fatality Fact-Finding Review panel.
Clark County is airing Thursday's 9 a.m. hearing on its television channel. (You can watch the live stream at the top of this page.)

The review panel was formed in January as a replacement for the controversial Coroner's Inquest process, which determined whether an officer's actions were justified in civilian deaths.
Former judge and Clark County District Attorney Stew Bell will preside over the panel, with attorney Tony Sgro acting as ombudsman for the family of Stanley Gibson. Gibson, 43, was shot and killed during a standoff with police in December 2011.
Authorities said Gibson refused to leave his car after he was pulled over by Metro police officers. He was shot by Officer Jesus Arevalo while sitting in the vehicle.
Copyright 2013 KVVU (KVVU Broadcasting Corporation). All rights reserved.