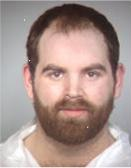 Cody Nimrod (Source: Tempe Police Dept.)
TEMPE, AZ (CBS5) -
Police have nabbed the man they believe is behind more than a handful of recent arsons in Tempe.
Tempe police said they have several reports of car and dumpster fires in the area of University and Priest drives about 3 a.m. Sunday.
Cody Nimrod, 26, was arrested while setting a fire in the residential area of Hardy and Laird Street.
Authorities said evidence from the scenes linked Nimrod to seven fires at the following locations.
700 Block of W. 13th Street
1000 Block of S. Wilson
1200 Block of W. University
1300 Block of W. Ninth Street
1200 Block of W. Laird
1200 Block of W. Laird
1100 Block of W. Ninth Street
Nimrod was taken to Tempe city jail on charges of felony arson of a residential structure, as well as misdemeanor, reckless burning.
Copyright 2013 CBS 5 (KPHO Broadcasting Corporation). All rights reserved.