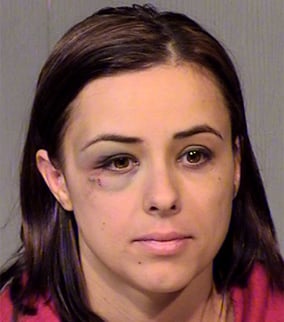 Christine Smith (Source: Maricopa County Sheriff's Office)
PHOENIX (CBS5) -
A 3-month-old girl caught in the middle of an argument between her mom and her boyfriend suffered multiple injuries in a domestic violence incident in Tempe on Saturday, police said.
Christine Smith, 27, was booked into the Tempe City Jail at about 11:30 p.m. on one count of assault and one count of child abuse.
Police said she and her boyfriend, Joseph Jacobi, have been in a domestic relationship for about one and a half years and have a daughter in common, 3-month-old Mikayla Jacobi.
Jacobi had been cradling his daughter when Smith began to attack him with her fists, because she was upset he was holding Mikayla when she should have been in bed, according to a court document.
Jacobi had multiple scratches on his neck and face as well as swelling on the left side of his face, temple and nose, according to the court paperwork.
Police investigators said while Jacobi was being attacked, Smith struck Mikayla about four times in the forehead - blows meant for Jacobi.
Mikayla suffered bruising and swelling to her forehead and was taken to the hospital.
Copyright 2013 CBS 5 (KPHO Broadcasting Corporation). All rights reserved.