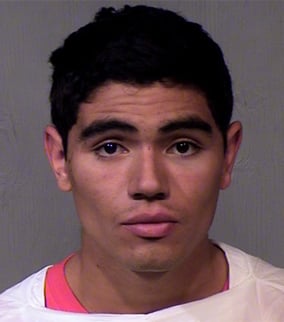 (Source: Tempe Police Department) Anthony Sheppard-Sakakihara
TEMPE, AZ (CBS5) -
A Tempe man is in jail after he allegedly hit a police officer in the face as he was being handcuffed early Sunday morning.
Police used a Taser to subdue Anthony Sheppard-Sakakihara, 19, after officers said he repeatedly fought with them in an attempt to avoid arrest.
Officers suspected the teen was behind some criminal damage that occurred at a McDonald's at 1205 S. Rural Road.
A Tempe officer was dispatched to help a Gilbert officer investigate the report. The officers said Sheppard-Sakakihara was visibly drunk.
When they went to arrest him, the teen swung at the Gilbert officer, missed, and hit the Tempe officer on the side of the face, according to a probable cause statement.
As Sheppard-Sakakihara continued scuffling with them, the Gilbert officer deployed his Taser.
The teen was taken to the hospital for treatment of minor injuries. After he was released, he was booked into Tempe City Jail on two count of aggravated assault, two counts of resisting arrest and consumption of alcohol under 21.
Copyright 2012 CBS 5 (Meredith Corporation). All rights reserved.