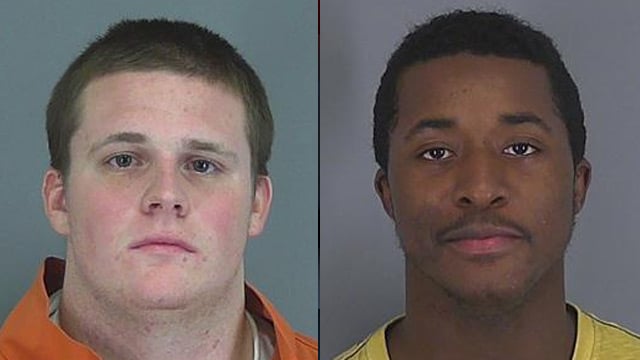 Desmond Stevenson and Zachery Hull (left). (Spartanburg Co. Detention Center)
SPARTANBURG, SC (FOX Carolina) -
Police said two men were accused of trying to steal from a Spartanburg Walmart because they were "bored."
Spartanburg police were called to the Dorman Centre Walmart about 12:20 a.m. Sunday after security officers detained the two men.
Desmond Stevenson, 18, and Zachery Hull, 20, were seen taking various clothes and food then hiding the items on themselves, police said.
When the officers asked the two why they were shoplifting, police said they replied that they were bored.
Both were arrested and charged with shoplifting.

Copyright 2012 FOX Carolina (Meredith Corporation). All rights reserved.